I always take a project when I go on holiday preferably a knitting project (you see the sewing machine is not practical when camping). This year was no exception so I'd plan to knit a little something for my children's future cousin (their first one so we are all very axcited!). I bought some lovely wool which looked like that:
J'emmene toujours quelquechose a faire quand je pars en vacances, preferablement quelquchose a tricoter (et oui la machine a coudre est pas tres pratique quand on fait du camping). Cette annee j'avais achete de la tres joli laine pour faire un petit quelquechose pour le future cousin de mes enfants (c'est le premier, on est tous tres impatient!). La joli laine resemblait a ca:
We coming home three weeks later and the project looks like that:
On rentre apres trois semaines et les pelotes de laine sont devenus ca: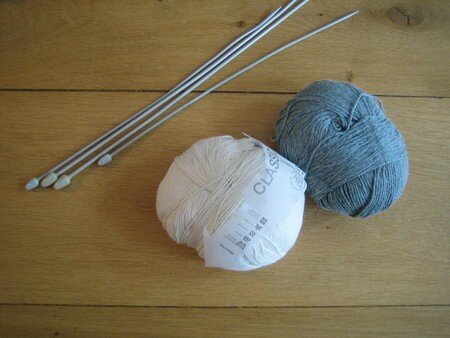 It's just to tell you how A.M.A.Z.I.N.G the holoidays have been. One of the best. Oh, I feel a little mosaique of my holiday pics coming on. Watch this space!
Juste pour vous dire que les vacances ont ete F.A.N.T.A.S.T.I.Q.U.E.S. Une des meilleures. Oh, je sens qu'une petite mosaique va s'imposer. A toute suite...