Lots of inspiration for the knitting in this magazine (sorry for the non knitters!). Quite a few knitted things that I am tempted to make like right now.
Plein d'inspiration tricot dans ce magazine (désolée pour ceux qui tricotent pas!). Quelques modeles qui j'aurais bien envie de faire genre tout de suite.
One from the 80s because it is pretty cool...
Et un des années 80 quand parce qu'il est quand même pas mal...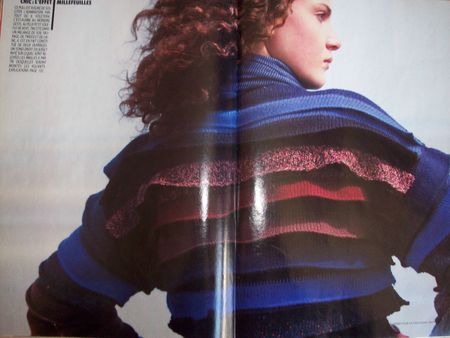 And these ones because I remember finding them fantastic and I would have liked my mum to make them for me. And also because I secretly wish for patterns to come back into fashion because it is more fun to knit than plain.
Et ceux la parce que je me souviens que je les trouvais super beau et que j'aurais bien aime que ma mere me les tricote. Et aussi parce que secrètement j'aimerais bien que les jacquard de la mort reviennent a la mode parce que quand même c'est plus rigolo a faire que du tout simple.