Lots of bits on my bedside table which were annoying me. So, at 10pm, it was absolutely vital that I did something about it... The unpretencious box was made in 15 min. I thought you might like the tutorial for it.
Plein de petits machins qui trainaient sur ma table de nuit. Donc a 10 heures du soir, il devint absolument vital que je trouve une solution... La boite sans pretention fut realisee en 15 min. Je pensait que le tuto vous interesserait.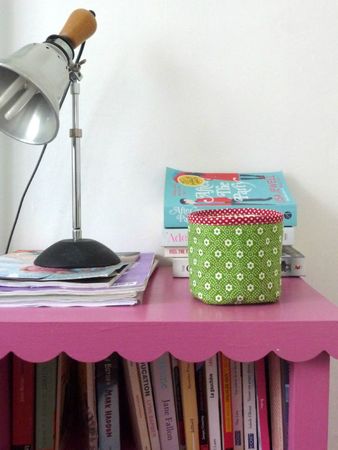 Cut a 14cm diametre circle and a rectangle measuring 42cm x 11cm 3 times: one in the outer fabric, one in the lining fabric and one in the wadding or fleece. You also need 43cm of biais. Sewing allowances are included.
Couper un cercle de 14cm de diametre et une rectangle de 42cm x 11cm, 3 fois: un dans le tissu exterieur, un dans le tissu inerieur et un dans le molleton ou polaire. Il faut aussi 43cm de biais. Les marges de couture sont incluses.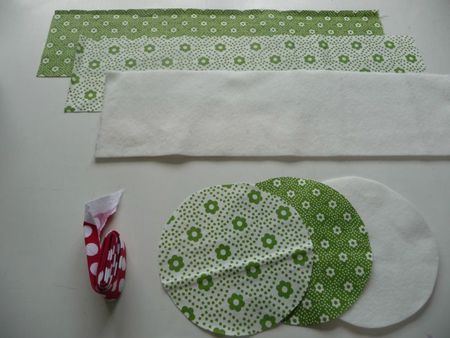 Sew one rectangle of fabric 1 cm from the edge so that it forms a circle (it doesn't matter which of the 2 fabrics you use). repeat with the other fabric, this time sewing it together with the wadding/fleece. The wadding is on the right side of the fabric.
Coudre un rectangle de tissu (n'importe lequel) a 1 cm du bord pour former un cercle. Repettez avec l'autre tissu en cousant le molleton en meme temps (le molleton est sur l'endroit du tissu).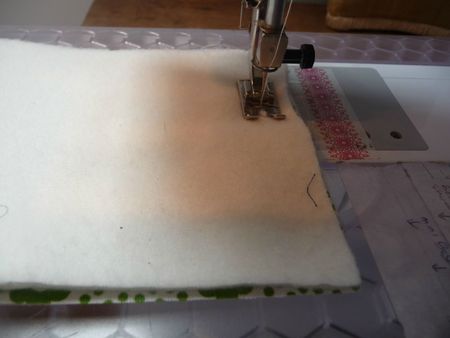 Sew onto the circle which also include the wadding/fleece 1cm from the edge.
Coudre sur le rond de tissu qui iclus aussi le molleton a 1cm du bord.
Coudre de la meme maniere l'autre cercle. Retournez. Mettre la moitie de la boite in l'interieur de l'autre envers contre envers.
Sew the other circle the same way. Turn inside out. Put one half of the box into the other wrong sides together.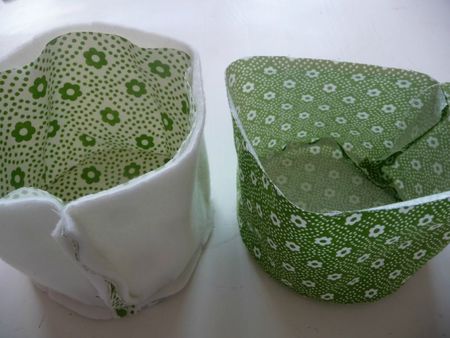 Sew the biais onto the top of the box sandwiching all layers. If the biais is causing you problem, there a good tutorial here. Voila!
Coudre le biais sur le haut de la boite en attrapant toutes les epaisseurs. Si la pose du biais vous pose probleme, il y a un tres bon tuto ici. Voila!
Evidement, c'etait trop dur d'en faire qu'une...
Of course, it was too hard to only make one...